Everyone is born with the first, and the latter is something you can develop.

As a 30-something woman, I seem to have been on a journey of self-discovery, healing and growth. And I don't want to stop!
I invited Dr. Zoe Shaw to return to the show to tell us what emotional intelligence is, how it differs from our emotional maturity, and how to develop as needed (and hopefully, desired)! She drops some truth and practical steps in this important episode! Tune in and share it with someone you love!

Learn more about Dr. Zoe

Dr. Zoe Shaw is a licensed psychotherapist, author, speaker, podcast host, life coach, and fitness fanatic. She is passionate about helping women who struggle in difficult relationships- especially that sometimes difficult relationship with themselves.
After 15 years in traditional psychotherapy practice, Dr. Zoe jumped off the couch and now helps women using a different modality with a mix of virtual therapy, coaching services, and programs designed specifically for women who struggle in difficult relationships.
Dr. Zoe is a graduate of UCLA and Pepperdine University. She is a frequent blogger and loves answering women's burning questions at her advice column at the Grit and Grace Project (online women's magazine). You can find her in the media on Instagram: @drzoeshaw and in most social places at the handle DrZoeShaw and visit her site, www.drzoeshaw.com.
Dr. Zoe was also in episode 003: Why Self-Care Isn't Selfish With Dr. Zoe Shaw – 003
I highly recommend you tune into episode 006: This Is Why Your Feelings Matter – 006
She's also a frequent guest on the podcast I co-host This Grit and Grace Life.

Here is the book Dr. Zoe recommended in the episode:
Four Thousand Weeks: Time Management for Mortals
Check out Dr. Zoe's book:
A Year of Self-Care: Daily Practices and Inspiration for Caring for Yourself (A Year of Daily Reflections)
Did you know that Dr. Zoe and I originally connected through my video series, #prayingforyourhusbanddaily? Want to start the habit? Begin here:
Here are the feelings emojis Dr. Zoe shared with me!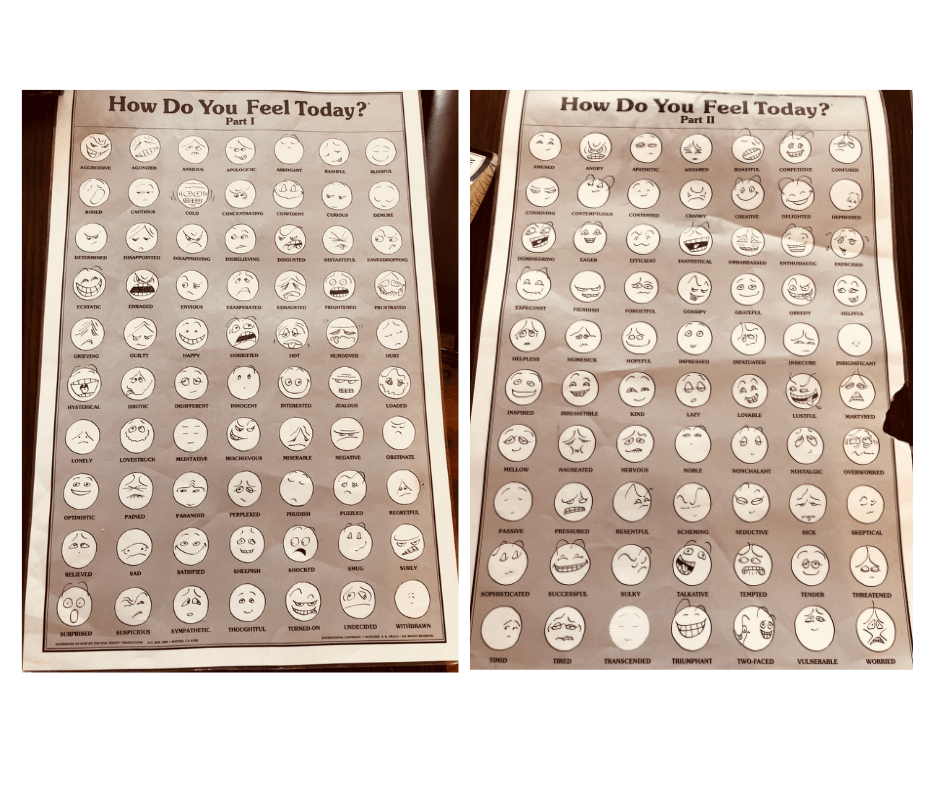 Word of the show:

buzzword [ ˈbəzˌwərd ] noun
a word or phrase, often an item of jargon, that is fashionable at a particular time or in a particular context.

Thanks to my sponsor, BetterHelp.
BetterHelp will assess your needs and match you with your own licensed professional therapist. You can start communicating within 48 hours. It's not a crisis line, it's not self-help, it is professional therapy done securely online. You can log in to your account anytime and send a message to your therapist. You'll get timely and thoughtful responses plus you can schedule weekly video or phone sessions so you won't ever have to sit in an uncomfortable waiting room as with traditional therapy. BetterHelp is committed to facilitating great therapeutic matches so they make it easy and free to change therapists if needed. It's more affordable than traditional offline therapy and financial aid is available.
Thanks again to BetterHelp for sponsoring this episode. Don't miss the special offer for The Julie Bender Show listeners: get 10% off your first month at
https://betterhelp.com/thejuliebender
Be sure to subscribe, rate, and review the show!
And share it so more friends can join us!

Never miss an episode! Sign up for my email list!
Speaking of friends, let's connect on social media!
Instagram
Facebook
YouTube
Amazon
— Disclosure: This post may contain affiliate links that at no additional cost to you, I may earn a small commission.