I used to roll my eyes whenever I saw this verse. ?
If it was quoted at church or by someone on the internet I'd cringe, judge it's context and/or quickly discount the reference. I believed it only bibIically meant that God Himself should be the desire of your heart, therefore He would answer this prayer when/if you lived that way.
On 2/27/11 I was stopped at church by a man I knew only slightly but was a regular in our congregation. (I was on staff at the time, he volunteered on my team and I later learned also lived in my neighborhood)…this had never happened to me and as far as I know (definitely knew then) it was very uncommon in our Southern Baptist Church.
He said "The Lord has given me a word for you and it is Psalm 37:4 'delight yourself in the Lord; and he will give you the desires of your heart'".
I have no idea what my face did as I was both stunned by his bravery, confused by my feelings about the verse, and also a little unsure if I believed that God even did that—give "words" to people for other people. ??‍♀️ #realtalk
Regardless of all of those swirling thoughts I went home that afternoon and wrote about it in my journal. One I used only very sporadically, but absolutely when I was feeling desperate to hear from or talk to the Lord. I told God that I wasn't sure if I believed that "the message was real" but that I did believe His word had power and truth and I would pay attention to see what this all meant. I had a small, quiet desire that I wasn't sure was approved by God so I didn't let myself truly feel it or pray for it—so I certainly didn't write that in the journal.
Over the next couple years I would note in my journal when other prayers were answered…
When our tax bill was considerably lower than we expected one year.

When my husband started treating his anxiety with medicine more consistently.
When my late husband got paid by a client we were afraid wouldn't pay (ironically the client whose house he later died working at).
I realized all the possible "answers to the prophecy" were really unearthing my codependency in my [first] marriage.
Hear more about that part of my life in my About Me podcast series:

I had to get honest with God: the desire of my heart was that my husband would desire God. And it seemed liked so. much. time. had. passed and God was not doing anything. Didn't God want his desire to be Him, too? I used the Amplifed version in the quote image I made because at times my prayers felt like petitions that were going unheard. Can you relate??
Fast forward to the year I was widowed. There were countless "weird" things that happened that the 20-something me would for sure roll her judgy-Christian eyes at that I knew in my core were God. So when I got the news that my husband wouldn't survive his accident THIS is the verse came to mind.

You see, yes, God did want Paul to desire Him. And to the best of his ability, at the time of his accident, he did. And then he got to go and be with Him, with no anxiety, work stress or money obsession anymore. And I didn't have to watch him in that constant battle anymore, either. The desire of both of our hearts was met.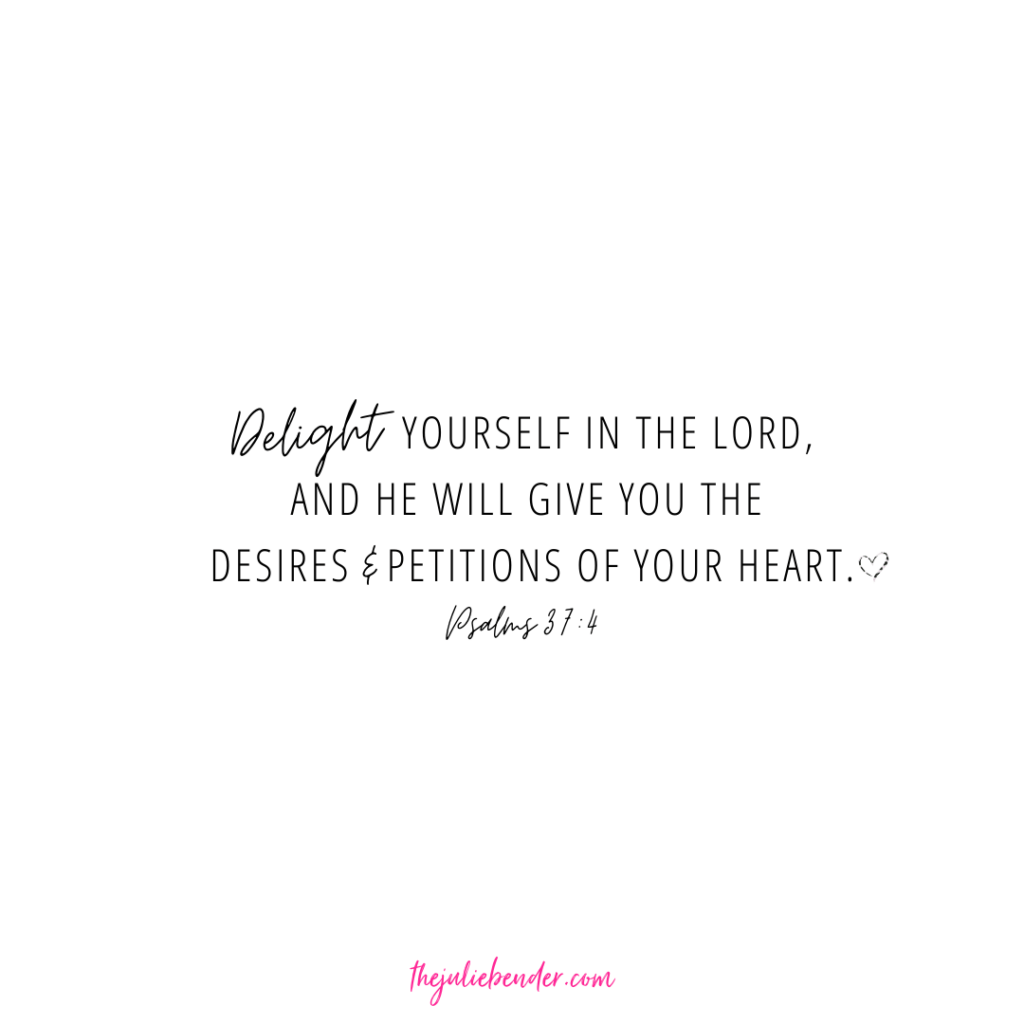 Now, when I see this verse, I am overcome with its personal meaning to me.
I read it this morning (as assigned by my church's Bible reading plan) during my coffee and bible time and I looked over to find my now-husband, D, lovingly talking about Jesus to our son and I marvel at just how personal, real and good our God truly is. You see, me and Linc were also the desire of D's heart.
A couple weeks ago, I saw the man who shared that verse with me randomly at a restaurant. I hadn't seen him in years and I don't believe he saw me. I wanted to go over and thank him for his boldness to share the message with me that day and tell him about what had happened in the years since. But then I noticed he was with a woman who had not been his wife when I knew him before, so I got nervous and didn't. I wish I had though. The man I was with was different, because God, and maybe he had a brutiful story too?
Or maybe it was his sister?
Really, it didn't matter, and if I see him again, I will talk to him.

Because, God's word never returns void and people need to be reminded of it.
Get started reading the bible! Read This Is What You Need for Your Own Coffee + Bible Time.
Get a bible, here!

And start praying for your marriage too! Don't miss this episode!
—Disclosure: This post contains affiliate links that at no additional cost to you, I may earn a small commission.