You are seen, so you should see yourself honestly and then let others see you, too.

This is the second affirmation I am focusing on this year, and I invite you to consider how the truth that you are seen affects every area of your life.
I share how I know you are seen by God, and why knowing this affects how you can and should see yourself and how you can proudly show your true self to others you deem trustworthy.
I offer several verses that prove this truth and vulnerably share why this affirmation needs to sink deeply into my heart so I can authentically live out #beboldandjustbeyou.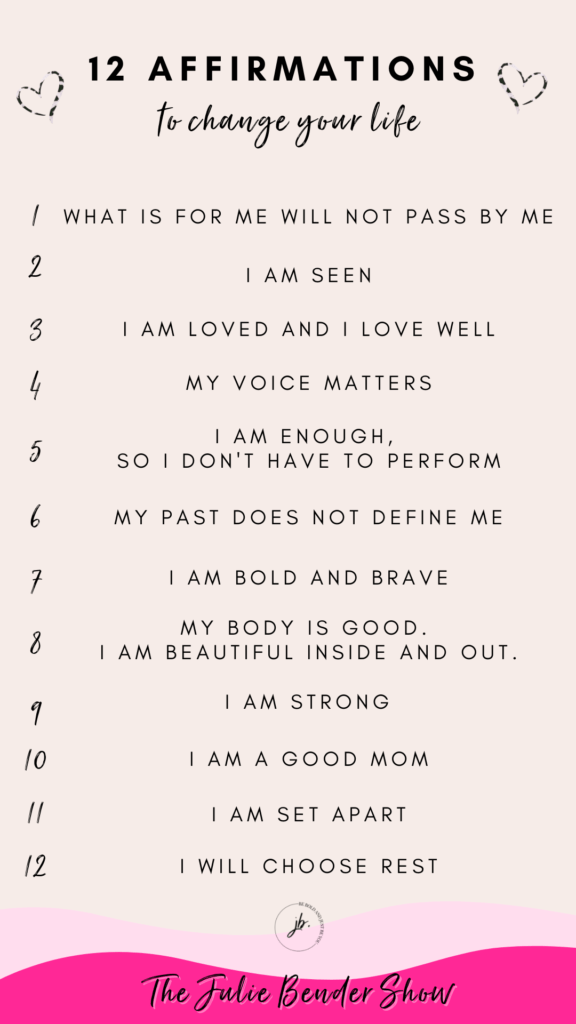 Don't miss the previous episode with the intro to affirmations and the first one "what is for me will not pass by me" 12 Affirmations That Will Change Your Life – 043
Here are the verses I shared in the episode, for you to read in your coffee and bible time!
Psalm 139
Proverbs 15:3
Jeremiah 12:3
Psalm 33:18
Jeremiah 1:5
2 Chronicles 16:9
Word of the show:
whigmaleerie / hwig-muh-leer-ee, wig / noun
a whim; notion.
a whimsical or fanciful ornament or contrivance; gimmick.
Thanks to my sponsor, BetterHelp.

BetterHelp will assess your needs and match you with your own licensed professional therapist. You can start communicating within 48 hours. It's not a crisis line, it's not self-help, it is professional therapy done securely online. You can login to your account anytime and send a message to your therapist. You'll get timely and thoughtful responses plus you can schedule weekly video or phone sessions so you won't ever have to sit in an uncomfortable waiting room as with traditional therapy. BetterHelp is committed to facilitating great therapeutic matches so they make it easy and free to change therapists if needed. It's more affordable than traditional offline therapy and financial aid is available.
Thanks again to BetterHelp for sponsoring this episode. Don't miss the special offer for The Julie Bender Show listeners: get 10% off your first month at
https://betterhelp.com/thejuliebender

Check out the Christian arm of BetterHelp: FaithfulCounseling.
You can also get 10% off your first month here.
Be sure to subscribe, rate, and review the show!
And share it so more friends can join us!

Never miss an episode! Sign up for my email list!
Speaking of friends, let's connect on social media!
Instagram
Facebook
YouTube
Amazon
— Disclosure: This post may contain affiliate links that at no additional cost to you, I may earn a small commission.